ESPN has revamped its Xbox 360 app just in time for the start of college season. The new features make viewing sports a more connected and, in some cases, personalized experience.
The standout of the new features is the ability to watch two games in split screen. Either video can be a live feed or a replay. You hear the audio from the game that you have selected by pressing left or right on the left thumbstick. Game audio quickly switches over when you want it to.
Many of the additions remind me of the ESPN Scorecenter app on iOS and Android devices. Namely, they've added the ability to add your favorite teams or leagues. From the favorites you give the app, it compiles a personalized "My Sports" feed with content related to those teams.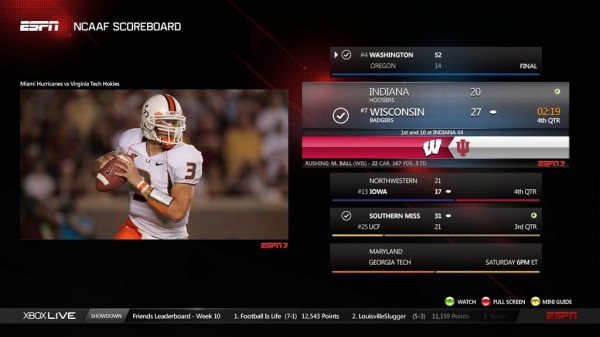 The new sidebar scores, alerts and Bottomline features also smack of the mobile apps. No need to locate another device to find the score of that other game you don't really want to watch but is anchoring your pick-em slate for that week. The scoreboard neatly fits as a split screen slot in the display. Live alerts also pop up when the score has changed in another game. One problem I've noticed a few times is the alerts seem to filter in a play ahead of the live feed, sometimes spoiling the score for you. And the Bottomline trails the news of the day just like you see on the cable version.
Fellow staff writer Greg Bortnick said he had some beef with the way the sidebar scoreboard works. Namely how when hovering on a game, it auto-deploys an extended view of that game with more stats. Any time he stopped for just a second, it auto-deployed and pushed the last visible game off the page. He found this feature annoying when searching through the listings for his team's game. He said he'd prefer a selectable deployment of the extra stats, or at least an option to turn auto-flow off.
I found game reminders a great improvement. You can tag a game so that you're alerted when it's starting so you won't miss a moment.
I also noticed a past issue seemed fixed. I've long lamented that I can't watch games with my friends through the app while chatting in an Xbox Live party because our "live" ESPN feeds wouldn't synch up. I remember last bowl season ruining every big play for a friend whose "live" feed was a minute behind mine. In recent experiments with a couple of friends, we were within five seconds on our tests, but your mileage may depend on your ISP.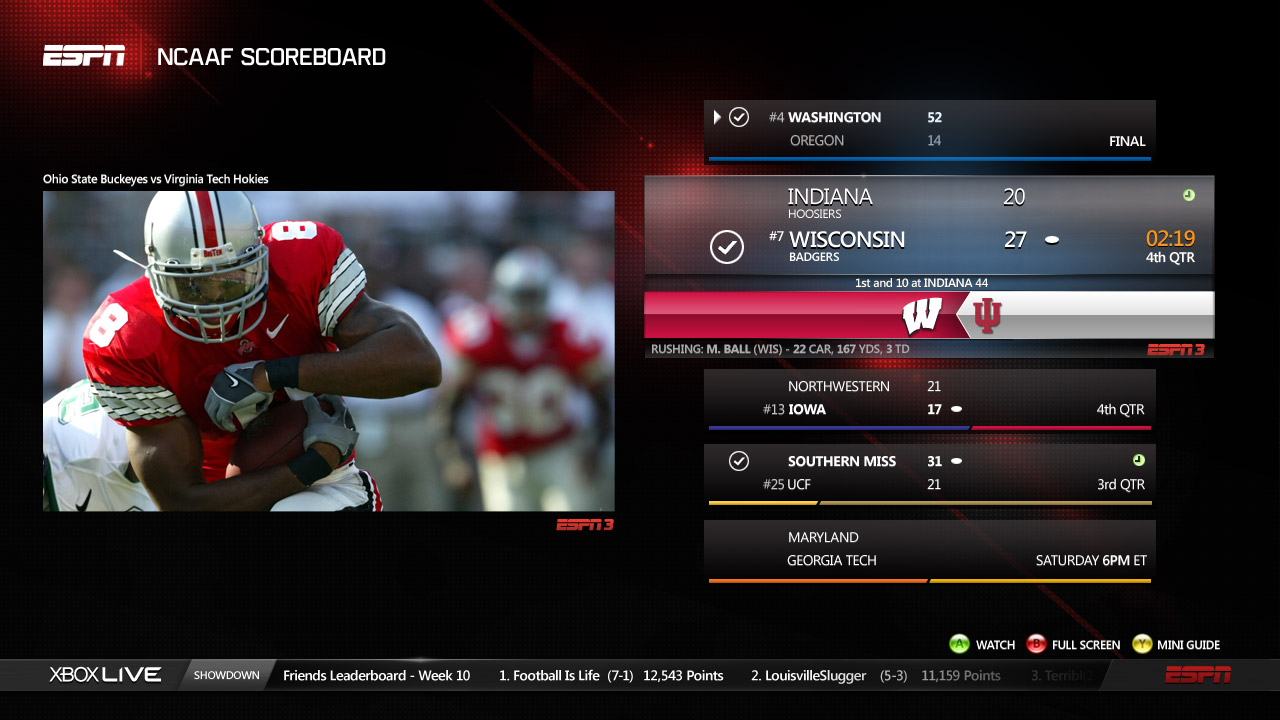 One of my big peeves has been the navigation and design. With all the added features, new controls are needed, but they're rather difficult to remember. X does this here, but something completely different in another menu. How do I get back to to split screen games after taking a peek at the scoreboard? Guess I have to scroll my way back to that game. The controls for my Windows Media Center remote are rather janky as well, but I can deal. I'm just thankful they're serviceable.
The menus seem to have too much going on. I space out with all the options. I heard the most complaints about this from gamers on Twitter. Press Y once and the "My Sports" feed or a row with all other live games pops up at the bottom. Y again brings up the all-content feed. It's a visually frustrating grid of boxes and menus that pop up other boxes and menus. I get that they're separating everything into live, highlights and replay rows, but it's too much to look at.
Greg also noticed a slight annoyance with the event selection. Specifically, the inability to back out of whatever he was viewing. There is not a menu page you can sit on while deciding what to watch. You must always have an active stream going. As such, he was stuck watching/listening to the sand soccer world cup whilst playing with the app, which left him unamused.
The update incorporated the Kinect into the app as well, but to a small extent. Motion control seems to be nonexistent and voice commands are extremely limited. I found myself capable of bringing up the menu to select events to watch, but unable to actually select them without the controller. I understand that fully incorporating the Kinect into the app may take some time so it was nice to see that they have made some progress even if it is limited.
Overall, the revamp is a great addition for this college football season, especially for cable-cutters like me. In fact, some of the new features make me wish that ESPN had won the bidding for the NCAA Basketball Tournament, though setting up computers all over my apartment is still a liveable option. Grab a beer and get the new season started right. Cheers to a perfect season. And don't forget to pray (and tithe) to the bandwidth gods.