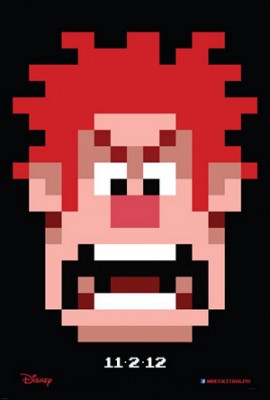 It's not often I find myself actually interested in anything Disney. I know they own Marvel, but that doesn't count. For the longest time anything that Disney touched seemed to go really bad as far as I'm concerned, Bedtime Stories and The Sorcerer's Apprentice. Other than a few exceptions like Up, Prince of Persia: The Sands of Time and WALL-E, Disney has been something I've actively avoided for most of the 21st Century.
Now it seems I may want to go see a Disney movie; a real Disney kids movie. Wreck-It Ralph looks like it's actually going to be a lot of fun. It stars an arcade video game villain who is tired of always being the bad guy. His character is reminiscent of Donkey Kong from his original arcade appearance and the movie features cameos by other video game villains such as Bowser, Zangief, Bison, Robotnik, Kano, Smoke and Clyde — one of the ghosts from Pac-Man. It even brings in a few old-school protagonists for fun such as Q*bert and Paperboy.
The next cool thing is that Wreck-It Ralph's voice talents include John C. Reilly, Jack McBrayer, Jane Lynch and Sarah Silverman. It even pokes a little fun at modern gaming when Ralph gets enlisted to fight aliens in Hero's Duty.
I'm not sure who this movie is aimed at, considering a great many of these references will be way over the head of its target audience, but I like the idea of recognizing that the people who grew up playing these games are older than me now and they have kids. I may have to borrow a kid to take to this movie, so I won't feel awkward at the theater.