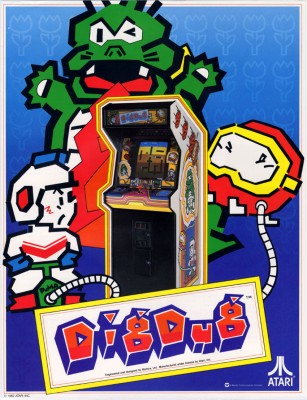 OK, so it's not a real trailer for a real movie, but it's still kind of cool. The trailer's creator, Steven Davis, claims he made it for some Hollywood producers who wanted a mock-up of  trailer for a movie version of Namco Bandai's classic arcade game. I'm not sure how much of that is accurate, but it's still an interesting fan made trailer.
The movie borrows scenes from such films as Armageddon, Tekken, The Core, Reign of Fire, The Rock, 9, Monsters Vs. Aliens, Voltron Force, My Bloody Valentine 3D, There Will Be Blood, The Mummy, The Descent, 127 Hours, Tremors, Mystery Men, Stargate SG-1, No Country For Old Men, and Kill Bill Volume II.
It also includes music such as "Lighthouse" – Amon Tobin , Tom Clancy's Splinter Cell Chaos Theory Soundtrack [MIX]; "Rapture" – Hurt , Vol. 1; "Underground" – Tom Waits, Swordfishtrombones; and the "Dig Dug Theme" from Dig Dug.
Check it out before it gets taken down.
Dan Hoyt has been an avid gamer his entire life. When he's not playing games, he's working out by walking his dog, hiking and doing martial arts. He likes to try new kinds of alcohol and discuss politics. He's a graduate of The University of Kansas and has spent years as a journalist.
For updates from The Best Game Site Ever, "like" us on Facebook or follow us at Twitter, where we discourage trolling, but encourage debate.