A few weeks ago, I wrote an article explaining which movie studios have all the individual rights to different Marvel comic-book characters. I was incredibly jazzed about the idea of seeing a huge movie version of a Marvel event featuring characters from the Marvel Universe like the Civil War. Unfortunately, that is not going to happen for a while, but recently a few things happened that are speeding the process up.
A few weeks ago, Marvel reclaimed the movie rights to Blade from New Line Cinema, which had been unsure what to do with them since Wesley Snipes was sent to prison on tax-evasion. Last month, the studio the rights revert back to Marvel, where they will remain until sparkly vampires are no longer the standard by which other vampires are compared.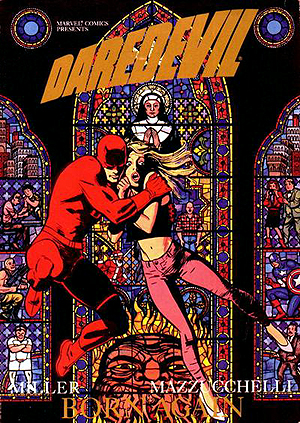 Today, Marvel took another huge step by taking back the rights to Daredevil and most likely the Kingpin and Elektra from 20th Century Fox. Fox had been allowing the rights to exist in creative purgatory for some time and was considering allowing Joe Carnahan (The Grey, The A-Team) to direct a movie based on the Daredevil story, Born Again which is about Kingpin finding the identity of Daredevil. The Avengers even make an appearance at the end of the story.
Carnahan tweeted yesterday, "DD pitch was tremendous and everyone flipped for it. The clock ticked down at Fox, that's why it went tits up." While Carnahan may not sound very optimistic, there is no reason that Marvel Studios couldn't pick up the director and have him make the movie. He seems to like the idea of making sure the character stays true to its gritty, street-level storylines about organized crime and there is no reason why Marvel couldn't pick him. He's already released a mock trailer to give studios an idea of what he would be going for and the trailer looks great. Let's hope Marvel makes a good move on this and we get to see a truly spectacular Daredevil movie.

Dan Hoyt has been an avid gamer his entire life. When he's not playing games, he's working out by walking his dog, hiking and doing martial arts. He likes to try new kinds of alcohol and discuss politics. He's a graduate of The University of Kansas and has spent years as a journalist.
For updates from The Best Game Site Ever, "like" us on Facebook or follow us at Twitter, where we discourage trolling, but encourage debate.